The LED display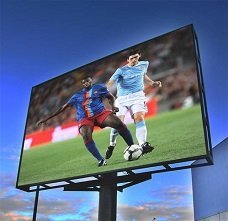 The LED display is a billboard that is nowadays used as a digital advertising medium in cities, roads, parks, towers, commercial parks, hotels, and even interiors such as sports halls, halls, and so on. Is used.
The LED display is designed and manufactured in two types of Outdoor LED display and indoor LED display.
How to build a municipal television?
Putting together a full-color LED module (full-color module) with a dedicated controller and a plenty of power supply to the city's cabinets, and putting together city-style cabinets or LED displays. The type of controller is determined by the number of rows in the LED panel and, depending on the customer's need, to the controller online or offline. The number of power supplies is also determined by the total number of LEDs used in urban television.
LED city TVs are produced and supplied at different densities. As you know, the full color LED module has different densities. The dot matrix of the LED modules is centered on the center of the dual-LED The other one is that the shorter the distance is, the density of the LED module is higher and the image resolution that it offers is better and better, and the urban television will be supplied with p10, p12, p13 and so on. That the choice of the dot matrix depends on the purpose of using the display in the interior or exterior, the amount of cost to be considered and the height of the installation of the monitor to determine. Ten is the minimum distance depends on the viewer screen.
The state-of-the-art LED TV can play text, photos and videos with all commonly used formats in full color (16 million colors)
The features and advantages of the city's tv's are high quality and low cost, and real-time support and after sales service, due to the direct and uninterrupted import of parts from the best and most reliable global manufacturers.
Keywords: LED TV-LED-LED Full-Color LED Module-LED Display-Indoor LED Display