Times Square's Biggest and Most Expensive Digital Billboard Is Set to Shine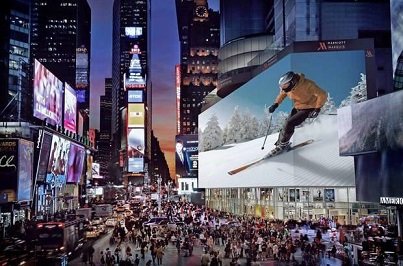 the city of New York is one of the most gorgeous cities in the world, always known for the number of billboards.
Now the Times Square Square, one of the most famous squares in the world, has been the world's most expensive and largest digital billboard.
The billboard covered the facade of a building between the streets 45 and 46, with a width of 100 meters, has been able to rank as the most expensive and largest digital billboard in the world.
Before the pre-release of Google's promotional teaser and the main opening day, this is a graphic arts and sports show on the billboard.
It's estimated that 300,000 people walk on foot every day, and according to a survey of two dozen pedestrians, half of them lost the graphics and beauty of this billboard with 24 million pixels, and 60% of them had more than five minutes of their time To spend watching the scanned images.
Of course, the size of this billboard is not as large as the LG's billboard at Sheikh Khalid airport in Saudi Arabia, but it should be considered