Aratex

»

Products » Controller
Controller
The main advantage of this
controller
in addition to its low base price being as affordable, sustainable and efficient software and hardware and so simplified as the end user, without any specialized knowledge in the field of
LED display
, is able to design and replace easily the plan of the display
Another advantage of this
controller
, tailored to customer requirements having huge varieties and different types including single color, full color, online
and offline (Synchronous / Asynchronous) while all the models have been mentioned as follows
Single color HD Controllers
These
controllers
are equipped with Hub12 output in addition to Hub08 and applied for single color systems as well as for displays three and seven colors if the
controllers
to be updated by HD program
HD-U6A Controller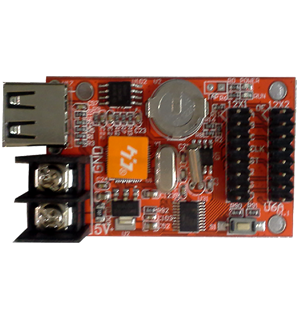 | | |
| --- | --- |
| Type LED Modual | dual color halved,support seven color |
| Type and Number Of Hubs | 2xhub 12 |
| The maximum pixel Single color | 32*320 |
| Internal memory | 1.5M byte |
| Communication port | U DISK |
| software | HD2016 |
HD-U6B(A40K )Controller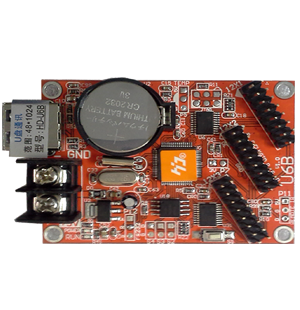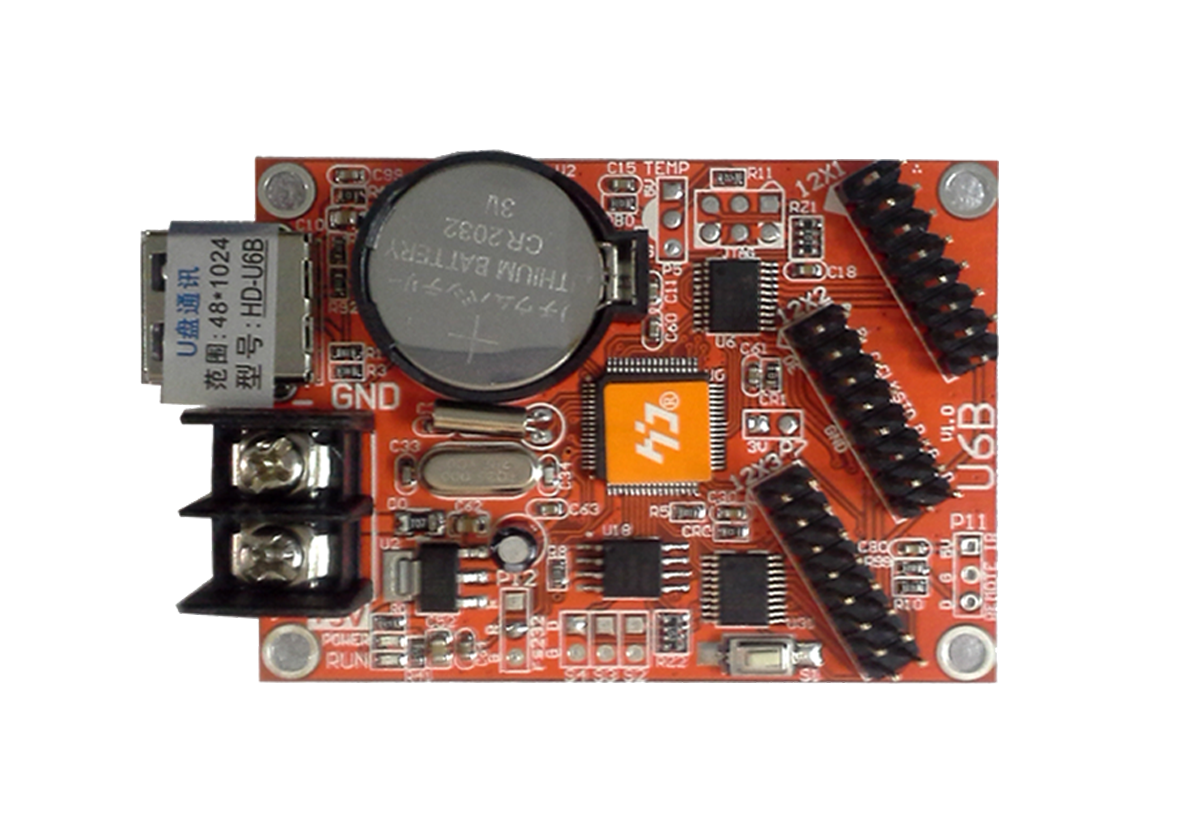 | | |
| --- | --- |
| Type LED Modual | dual color halved,support seven color |
| Type and Number Of Hubs | 3xhub 12 |
| The maximum pixel Single color | 48*1024 |
| Internal memory | 8M byte |
| Communication port | U DISK |
| software | HD2016 |
HD-U62(Q40)Controller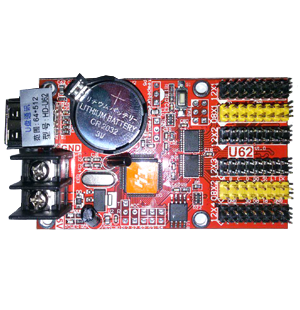 | | |
| --- | --- |
| Type LED Modual | dual color halved,support seven color |
| Type and Number Of Hubs | 2xhub 08 and 4xhub 12 |
| The maximum pixel Single color | 64*512 |
| Internal memory | 8M byte |
| Communication port | U DISK |
| software | HD2016 |
HD-U63(U40) Controller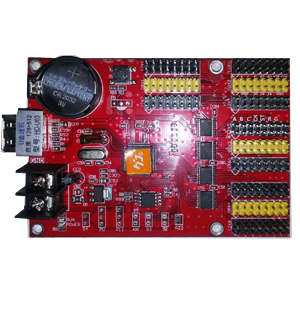 | | |
| --- | --- |
| Type LED Modual | dual color halved,support seven color |
| Type and Number Of Hubs | 4xhub 08 and 8xhub 12 |
| The maximum pixel Single color | 128*512 |
| Internal memory | 8M byte |
| Communication port | U DISK |
| software | HD2016 |
HD-A40 Controller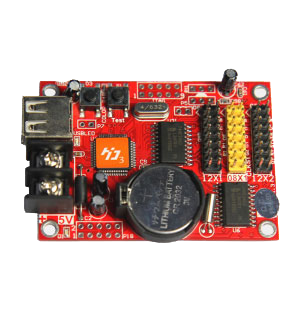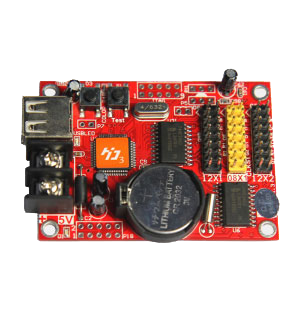 | | |
| --- | --- |
| Type LED Modual | Single-color, Dual-color |
| Type and Number Of Hubs | 1xhub 08 , 2xhub 12 |
| The maximum pixel Single color | 32*768 |
| Maximum tri-color pixels | 32*384 |
| Internal memory | 8M byte |
| Communication port | USB Interface |
| software | HD2014 |
| Image Format | Support: jpg, png, bmp |
| Animation format | Support : GIF , SWF |
| text format | Support: txt, rtf |
HD-A41 Controller
| | |
| --- | --- |
| Type LED Modual | Single-color, Dual-color |
| Type and Number Of Hubs | 1xhub 08 ,2xhub 12 |
| The maximum pixel Single color | 32*1024 |
| Maximum tri-color pixels | 32*512 |
| Internal memory | 8M byte |
| Communication port | USB interface,RS232 |
| software | HD2014 |
| Image Format | Support: jpg, png, bmp |
| Animation format | Support : GIF , SWF |
| text format | Support: txt, rtf |
HD-Q40 Controller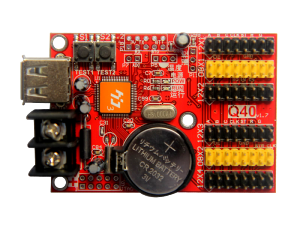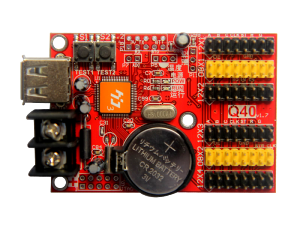 | | |
| --- | --- |
| Type LED Modual | Single color and Dual color |
| Type and Number Of Hubs | 2xhub 08 ,4xhub 12 |
| The maximum pixel Single color | 1024x64 ( hub 12 ) / 512x32( hub 08 ) 1color |
| Maximum tri-color pixels | 512x64 ( hub 12 ) / 256x32( hub 08 ) 3color |
| Internal memory | 8M byte |
| Communication port | USB interface |
| software | HD2014 |
| Image Format | Support: jpg, png, bmp |
| Animation format | Support : GIF , SWF |
| text format | Support: txt, rtf |
HD-Q41 Controller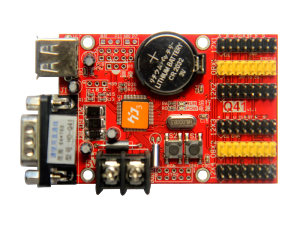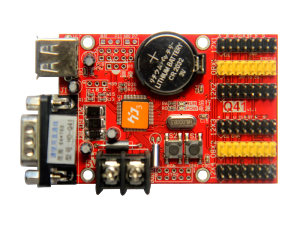 | | |
| --- | --- |
| Type LED Modual | Single-color, Dual-color,Tri-Color |
| Type and Number Of Hubs | 2xhub 08 , 4xhub 12 |
| The maximum pixel Single color | 1536x64 ( hub 12 ) / 768x32 ( hub 08 ) 1color |
| Maximum tri-color pixels | 768x64 ( hub 12 ) / 384x32 ( hub 08 ) 3color |
| Maximum seven-color pixels | 768x64 ( hub 12 ) / 384x32 ( hub 08 ) 7color |
| Internal memory | 8M byte |
| Communication port | USB interface, RS232 |
| software | HD2014 |
| Image Format | Support: jpg, png, bmp |
| Animation format | Support : GIF , SWF |
| text format | Support: txt, rtf |
HD-U40 Controller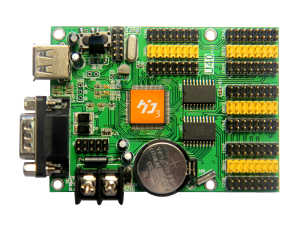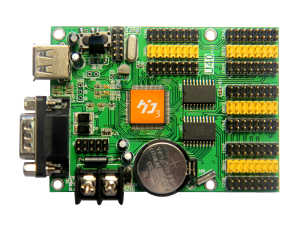 | | |
| --- | --- |
| Type LED Modual | Single-Color, Dual-Color, Tri-Color |
| Type and Number Of Hubs | 4xhub 08 and 8xhub 12 |
| The maximum pixel Single color | 1280x128 ( hub 12 ) / 640x64 ( hub 08 ) 1color |
| Maximum tri-color pixels | 640x128 ( hub 12 ) / 320x64 ( hub 08 ) 3color |
| Maximum seven-color pixels | 832x64 ( hub 12 ) / 416x32 ( hub 08 ) 3color |
| Internal memory | 8M byte |
| Communication port | USB interface |
| software | HD2014 |
| Image Format | Support: jpg, png, bmp |
| Animation format | Support : GIF , SWF |
| text format | Support: txt, rtf |
HD-U41 Controller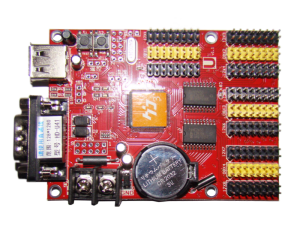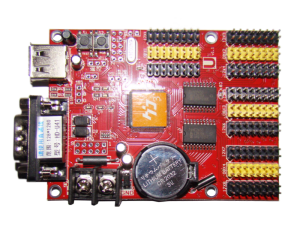 | | |
| --- | --- |
| Type LED Modual | Single-Color, Dual-Color, Tri-Color |
| Type and Number Of Hubs | 4xhub 08 and 8xhub 12 |
| The maximum pixel Single color | 2048x128 ( hub 12 ) / 1280x64 ( hub 08 ) 1color |
| Maximum tri-color pixels | 1280x128 ( hub 12 ) / 640x64 ( hub 08 ) 3color |
| Maximum seven-color pixels | 1696x64 ( hub 12 ) / 848x32 ( hub 08 ) 7color |
| Internal memory | 8M byte |
| Communication port | USB interface, RS232 |
| software | HD2014 |
| Image Format | Support: jpg, png, bmp |
| Animation format | Support : GIF , SWF |
| text format | Support: txt, rtf |
Full Color HD Controllers

Although the quality and efficiency of these
controllers
shall not be competitive in compare to more powerful
controllers
such as
Nova star M20,M31
but because of the base price can be an appropriate option
HD-D10 Controller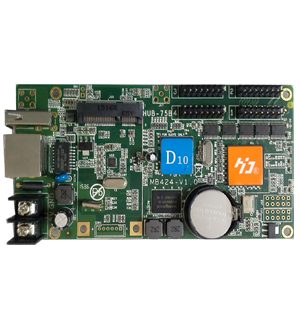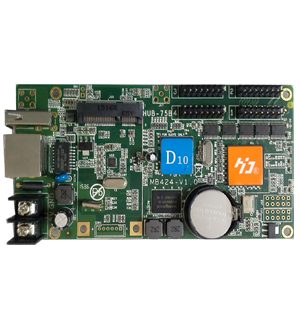 | | |
| --- | --- |
| HD-C1 controller | indoor & out door & semi-out door full color module |
| The maximum pixel full-color | 64*384 |
| Gray Level | 0-256 |
| Internal and external memory | 256MB + USB |
| Communication port | U DISK , LAN , Network interface |
| software | HD Player |
| Image Formats | ...Support:BMP,JPG,JPEG,PNG |
| Animation format | ...SWF,FLV,GIF,AVI,WMV,MP4 |
| Text format | ...Support: txt, rtf , html |
HD-D20 Controller
| | |
| --- | --- |
| HD-C1 controller | indoor & out door & semi-out door full color module |
| The maximum pixel full-color | 64*384 |
| Gray Level | 0-256 |
| Internal and external memory | 256MB + USB |
| Communication port | U DISK , LAN , Network interface |
| software | HD Player |
| Image Formats | ...Support:BMP,JPG,JPEG,PNG |
| Animation format | ...SWF,FLV,GIF,AVI,WMV,MP4 |
| Text format | ...Support: txt, rtf , html |
HD-D30 Controller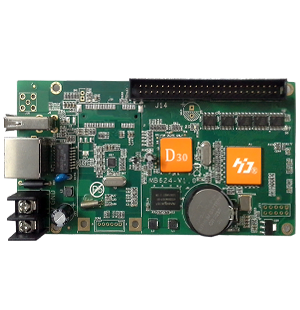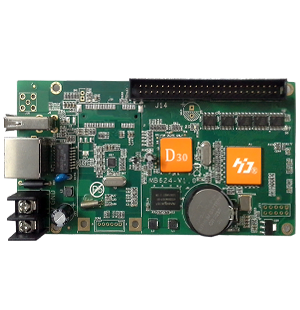 | | |
| --- | --- |
| HD-C1 controller | indoor & out door & semi-out door full color module |
| The maximum pixel full-color | 64*1024 |
| Gray Level | 0-256 |
| Internal and external memory | 256MB + USB |
| Communication port | U DISK , LAN , Network interface |
| software | HD Player |
| Image Formats | ...Support:BMP,JPG,JPEG,PNG |
| Animation format | ...SWF,FLV,GIF,AVI,WMV,MP4 |
| Text format | ...Support: txt, rtf , html |
HD-C10 Controller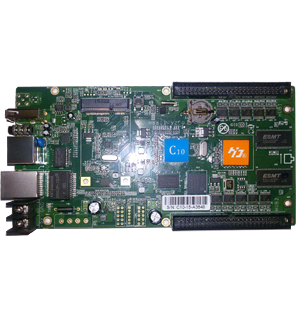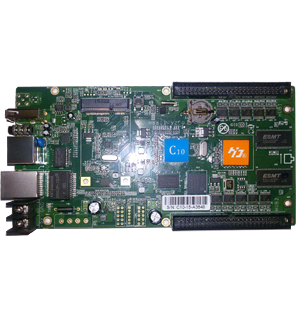 | | |
| --- | --- |
| Audio Output | double track stereo audio out put |
| The maximum pixel full-color | 256*384 |
| Gray Level | 0-65536 |
| Internal and external memory | 4GB + USB |
| Communication port | Through the network port to conect local area network, internal , 3G/4G |
| software | HD Player |
| Image Formats | ...Support:BMP,JPG,JPEG,PNG |
| Animation format | ...AVI, WMV, MP4, 3GP, MPG |
| Text format | ...Support: txt, rtf,html |
HD-C30 Controller
| | |
| --- | --- |
| Audio Output | double track stereo audio out put |
| The maximum pixel full-color | 480*640 |
| Gray Level | 0-65536 |
| Internal and external memory | 4GB + USB |
| Communication port | Through the network port to conect local area network, internal , 3G/4G |
| software | HD Player |
| Image Formats | ...Support:BMP,JPG,JPEG,PNG |
| Animation format | ...AVI, WMV, MP4, 3GP, MPG |
| Text format | ...Support: txt, rtf , html |
HD-C1 Controller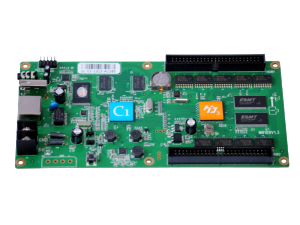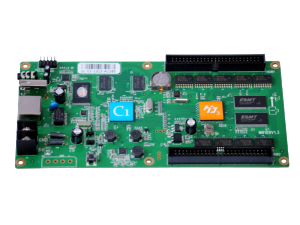 | | |
| --- | --- |
| HD-C1 controller | Single Color, Dual Color, Full Color |
| Audio Output | Yes |
| The maximum pixel full-color | 128*384 |
| CPU/RAM | Cortex A8 / DDRII |
| Gray Level | 0-65536 |
| Internal and external memory | 512MB + USB |
| Communication port | USB interface, LAN |
| software | LedArt |
| Image Formats | Support: jpg, png, bmp |
| Animation format | …,AVI,WMV,MP4,3GP,FLV,MPG,GIF , SWF |
| Text format | Support: txt, rtf |
HD-C3 Controller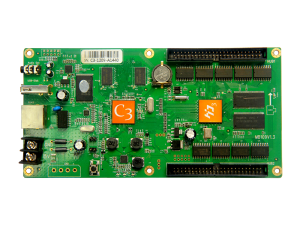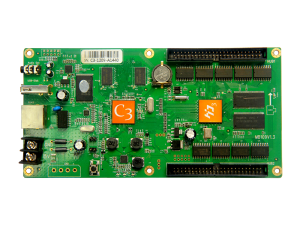 | | |
| --- | --- |
| HD-C3 controller | Full Color, Dual Color, Single Color |
| Audio Output | Yes |
| The maximum pixel full-color | 256*384 |
| CPU/RAM | Cortex A8 / DDRII |
| Gray Level | 0 – 65536 |
| Internal and external memory | 512MB + USB |
| Communication port | USB interface, LAN |
| software | LedArt |
| Image Formats | Support: jpg, png, bmp |
| Animation format | …,AVI,WMV,MP4,3GP,FLV,MPG,GIF , SWF |
| Text format | Support: txt, rtf |
HD-R500 Controller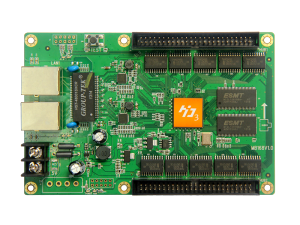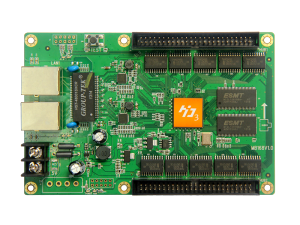 | | |
| --- | --- |
| HD-R500 controller | Full Color, Dual Color, Single Color |
| The maximum pixel full-color | 1024*728 |
| Each card has a maximum pixel full color | 256*128 |
| CPU/RAM | Cortex A8 / DDRII |
| Gray Level | 0 – 65536 |
| Internal and external memory | 512MB + USB |
| Communication port | LAN |
| software | HD3000 |
| Image Formats | Support: jpg, png, bmp |
| Animation format | …,AVI,WMV,MP4,3GP,FLV,MPG,GIF , SWF |
| Text format | Support: txt, rtf, Excel, Word |
Nova star Controller
Novastar is one of the most prominent companies in providing the most advanced
LED display
and
urban display controllers
. Nova Star
Online Controller
Production Line is based on simultaneous control technology and point-to-point LED. The company's prominent features include innovative display control technology, user-friendly products, industry-standard, and professional support solutions. Currently,
Novastar Controller
holds 50% of the market share worldwide.
The benefits of these controllers support the latest LED image processing technology, which greatly improves the quality of the images on the screen, and adjusts the size and contrast of image playback to better capture images. Also, gamma technology automatically improves gray color performance with brilliant screen brightness and displays brighter and livelier images.
LINSN Controller
Since these
online controllers
, assumed as the most strongest and famous controllers worldwide the prominent companies applied them in
urban TV
display systems. As an
online controllers
, they will be used like a monitor and the image on your computer monitor shall be transferred and shown promptly (Real Time) on the display. Hence, the
controllers
are suitable for usage in halls, sport complexes and conferences, then as soon as connecting to the cameras already mounted in place, will be highly efficient
The controllers support all modules including full & single /tricolor
LED modules
Linsn controller
card consists of two separate cards: transmitter cards (Sending cards) and receiver cards (Receiving Cards), which both of them required for starting the display while each transmitter card is capable of applying several receiving cards .the number of the receiving cards will be calculated and specified for huge TV monitors depending on the size and number of the monitor pixels
Linsn
transmitter cards include two types: Internal (local) and External (foreign) cards. The Internal controls are located inside the PC case environment but
External controls
mounted out of pc space mostly used in tablets while for external
controllers
,the conversion card as ADS must be used